Image

The Best Lawn Care in Winder With No Contracts
Lawn Care in Winder
A well-maintained yard sets a great first impression for your property, not to mention it also increases the value of your home. Unfortunately, maintaining a healthy yard isn't always easy. That's where our technicians at Legacy come in! Our lawn care in Winder takes care of all the hard work for you, from eliminating weeds to treating fire ants and everything in between.
Our lawn care services include:
Fertilizer Applications
Weed Control
Fungicide Treatment 
Core Aeration
Flea and Tick Control
Fire Ant Control
Soil Testing (as needed)
And more!
 
JUMP TO A SECTION TO LEARN MORE:
Image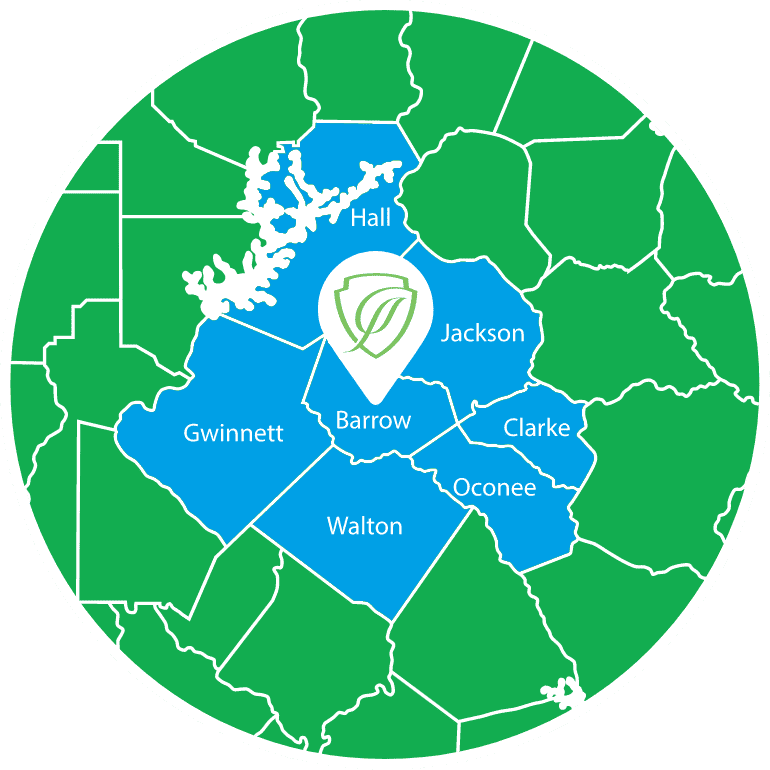 Comprehensive Care for Your Lawn
As the seasons change, so do the needs of your landscape. To keep up, our lawn care in Winder tailored to the time of year, ensuring your property always looks its best. With eight strategically-scheduled treatments, friendly technicians, and service within 48 hours, there's no better choice than Legacy Lawn Care.
When you partner with us for lawn services in Winder, we will:
Evaluate the overall health of your yard and identify existing problem areas.
Tailor our treatment approach based on your property's needs.
Fertilize your lawn to promote green grass and strengthen it from root to tip.
Eliminate broadleaf and grassy weeds while preventing new ones from germinating.
Give you the beautiful yard that you deserve!
See Results Without a Contract
Regular treatments are the secret to thriving grass. However, we do understand that's not the best option for everyone. That's why we offer no-contract lawn care in Winder. You get to make the choice between recurring services and one-time treatments. Either way, our team of technicians will always go above and beyond to help.
Lawn Fertilization in Winder
At Legacy Lawn Care, we understand that the health and beauty of your lawn is important to you. That's why our experienced team in Winder offers comprehensive fertilization services to ensure your grass gets all the essential nutrients it needs to stay healthy and vibrant. Whether you need a one-time treatment or an ongoing maintenance program, we have a solution for you. Our fertilization process in Winder includes:
An inspection of your lawn by a lawn care specialist to assess the condition of your grass and identify any potential problems.
Soil testing to determine the pH and nutrient composition of the soil and help us customize a fertilization plan specific to your needs.
Even fertilizer applications throughout the year, protecting your lawn from insects, weeds, and diseases.
Regular monitoring to ensure that your grass is receiving the proper nutrients at all times.
Lawn Aeration in Winder
Lawn aeration in Winder from Legacy Lawn Care is a great way to give your lawn the nutrients it needs. By removing plugs of soil, core aeration can reduce compaction and create channels for air, water, and nutrients to reach deep into the grassroots. The result? Greener and more vibrant grass with increased resistance to drought and disease.
Our team of experienced professionals will evaluate your lawn and create a custom aeration plan to help you get the most out of our core aeration in Winder. We use only safe and environmentally friendly products, so you can trust that your lawn is being treated with care.
Our core aeration service in Winder can also help:
Improve soil quality
Promote thicker, more even turf growth
Reduce water runoff
By trusting Legacy Lawn Care for your lawn care needs, you can be sure that your lawn is receiving the professional attention it deserves. Our team of experts is passionate about providing the highest quality services to our customers and helping their lawns look their best. We also offer fescue overseeding to help make your lawn fuller. 
Weed Control in Winder
Weeds are such a nuisance to a yard and the problem is they just won't stop growing. Upkeep for your yard makes for a beautiful view, but pulling out weeds all the time is not ideal. There is a way to get a gorgeous lawn in Winder without the effort though. Legacy Lawn Care can take the weight off your shoulders and do all the work for you!
Local Weed Control Services 
We have professionally trained technicians along with state-of-the-art weed treatments so you don't have to worry about a thing. We even provide you with a free estimate so you'll know how much a beautiful lawn free of weeds is before we start the process. Our weed control for lawns and flower beds includes: 
An inspection performed by our expert technicians to see what areas to focus on. 

A customized plan for weed control on your property to make sure everything is taken care of.

Spraying for weeds including pre-emergent and post-emergent to take out the annoyances and set up protection against future weeds that might pop up. 

A comprehensive lawn care program including services every 5-7 weeks, with weed spot treatments as well.

And more!
Tree and Shrub Care in Winder
Welcome to Legacy's tree and shrub care services in Winder, GA! Properly maintaining your landscaping is key to protecting your investment and increasing your property value. That's why our experienced shrub and tree arborists are here to provide you with exceptional tree and shrub care. Check out some of the benefits of our services:
Comprehensive inspection to ensure the health of your landscaping
Expert tree injections to keep your trees protected from insects and disease
Effective tree disease treatments to keep your trees in top shape
Seasonal fertilization to provide your trees and shrubs with the necessary nutrients
Shrub care to keep your entire landscape looking great
100% guarantee on our work
Over 45 years of experience in the industry
Don't leave your landscaping to chance. Trust our tree and shrub fertilizer service to ensure your property is the envy of the neighborhood. Contact us today to learn more about our arborist services!
Grub Control in Winder
Are you tired of dealing with brown patches on your lawn caused by grubs? Don't waste your time and money on ineffective grub killers. Instead, turn to our trusted grub control service in Winder! Here's what we offer:
Free grub inspection to identify the extent of the infestation.
Highly-effective grub treatments that will eliminate the problem for good.
Ongoing grub prevention to keep your lawn healthy and beautiful all year round.
Family and pet-friendly solutions so that you can have peace of mind.
With our expert grub control for lawns, you can say goodbye to those pesky grubs causing damage to your property. Our lawn insect control services cover many pests to ensure your lawn stays healthy. Don't let pests ruin your outdoor space! Get rid of them today and prevent future infestations with Legacy Lawn Care's grub control service in Winder.