Image
The Best Lawn Care in Winder With No Contracts
Lawn Care in Winder
A well-maintained yard sets a great first impression for your property, not to mention it also increases the value of your home. Unfortunately, maintaining a healthy yard isn't always easy. That's where our technicians at Legacy come in! Our lawn care in Winder takes care of all the hard work for you, from eliminating weeds to treating fire ants and everything in between.
Our lawn care services include:
Fertilizer Applications
Weed Control
Fungicide Treatment 
Core Aeration
Flea and Tick Control
Fire Ant Control
Soil Testing (as needed)
And more!
 
Image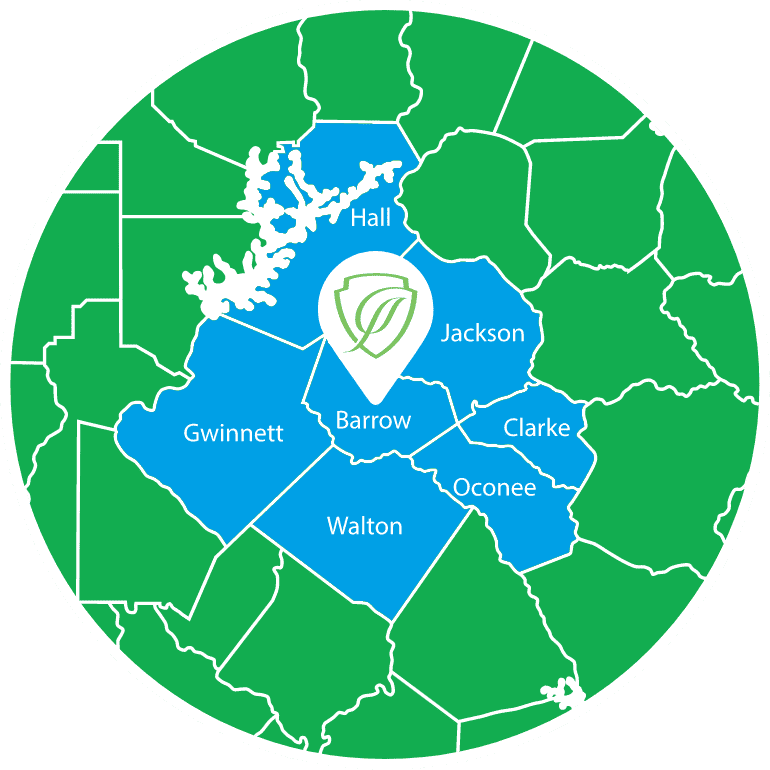 Comprehensive Care for Your Lawn
As the seasons change, so do the needs of your landscape. To keep up, our lawn care in Winder tailored to the time of year, ensuring your property always looks its best. With eight strategically-scheduled treatments, friendly technicians, and service within 48 hours, there's no better choice than Legacy Lawn Care.
When you partner with us for lawn services in Winder, we will:
Evaluate the overall health of your yard and identify existing problem areas.
Tailor our treatment approach based on your property's needs.
Fertilize your lawn to promote green grass and strengthen it from root to tip.
Eliminate broadleaf and grassy weeds while preventing new ones from germinating.
Give you the beautiful yard that you deserve!
See Results Without a Contract
Regular treatments are the secret to thriving grass. However, we do understand that's not the best option for everyone. That's why we offer no-contract lawn care in Winder. You get to make the choice between recurring services and one-time treatments. Either way, our team of technicians will always go above and beyond to help.
Lawn Aeration in Winder
Your grass goes through a lot whether that is heavy rains, extreme temperatures, or rough foot traffic. This can cause compacted soil which leads to thin, patchy, and overall lackluster grass. For the boost that your lawn needs, trust our core aeration in Winder. We aerate your lawn by removing plugs of soil that create channels for air, water, and nutrients to reach the grassroots.
Benefits of our core aeration in Winder include:
Greener and more vibrant grass.
Thicker, more even turf.
Increased resistance to drought and disease.
Better soil quality.
Reduced water runoff.
Lawn Pest Control in Winder
Lawn pests are a year-round problem for homeowners in Georgia. Insects like armyworms, grubs, fleas, ticks, and fire ants are not only annoying, but they're also dangerous to the well-being of your family, pets, and property. Trust our lawn pest control in Winder to keep you protected. When you do, you'll receive:
An inspection to determine what pests are present and where they're located.
Treatment with safe products that are proven to be effective.
Routine visits to ensure pests stay off your property.
Expert advice on ways you can repel pests.
Service as soon as 48 hours after calling. 
Mosquito Control in Winder
When it's warm, it's impossible to step foot outside without being bombarded by mosquitoes. These annoying pests leave behind itchy bites and can transmit dangerous diseases like malaria and West Nile virus. Instead of depending on ineffective store-bought sprays, trust our mosquito control in Winder. We'll keep mosquito populations in check all season long to protect you and your loved ones.
When you trust our mosquito control, we will:
Search your lawn for mosquito breeding areas,

like in bird baths or dense vegetation.

Create a treatment plan based on your property and your family's needs.

Eliminate both adult mosquitoes and larvae to stop future infestations.

Maintain open communication,

so you always know what's happening.