About Us
About Legacy Group
Winder, GA Lawn Care
Legacy Group is a family-owned and operated company with a team of individuals who all play a critical role in our success. With an experienced and dedicated team, we are committed to your satisfaction. With over 40 years of combined experience in the landscape industry, we like to think outside the box with each project. We have provided lawn, landscape, and pest control services to the greater Atlanta area for over 15 years. We look forward to hearing from you, so please don't hesitate to give us a call!
Image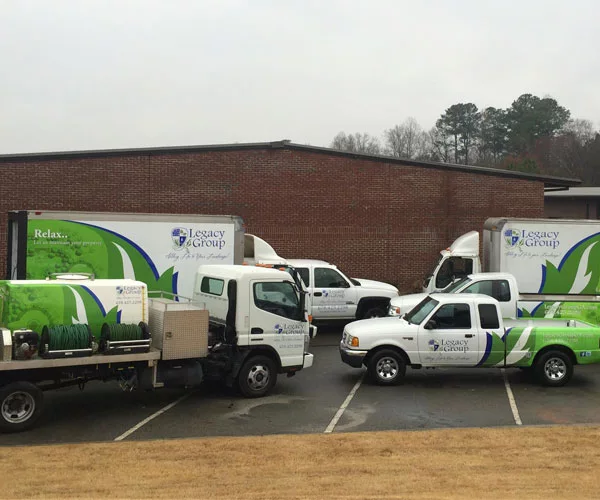 Image
Our History
Shane started at the age of 14 learning about landscaping, running equipment from his dad. At the age of 17 Shane joined the National Guard and still worked after school in the industry. At the age of 21 Shane then went to work for Turf Management lawn care to build their installation division, while there he studied and learned about the Lawn Maintenance and Turf care divisions. After 2 years Shane went out to start Legacy, after a year and a half came back to buy Turf Management Lawn Care and hasn't looked back. Shane main focus has been to provide exceptional service with professionalism and truly cares about the customer's needs. Shane enjoys spending time with his wonderful wife and 2 kids and dog "River", his passions are whitewater kayaking all over the south east, Mountain biking, camping, powerlifting and weekend travel with his family.
What Sets Us Apart
Knowledge
At Legacy Lawn Care, we are your Greater Atlanta Landscape Creation and Maintenance experts. As such, we have the know-how to build and upkeep your outdoor spaces. Our depth of experience and continued learning guarantee that we know what plants will perform best in which environments and what treatments your landscape needs to look its best.
Quality
Whether we're adding more greenery (or other colors) to your landscape or adding a treatment to control weeds, pests, or as fertilizer, we use only the highest-caliber products. Beyond that, we provide the highest-quality care to these high-quality products, to ensure the best chance of success.
Creativity
Our team at Legacy Lawn Care has over 40 years of experience in the landscape industry and we pride ourselves on our unique solutions, eye-catching designs, and creative problem-solving.
Dedication
We have a passion for Lawn Care and devote our time and energy to crafting the best Landscapes that we can, to fit your ideas and your budget. We will continuously treat your yard like it was our yard.
Comprehensiveness
No stone is left unturned, and no blade of grass is left unattended. Legacy Lawn Care is the most thorough lawn care business on the market, and we will work tirelessly to accomplish every goal that you envision for your project