Image

Get No Binding Contracts with Lawn Care in Watkinsville
Lawn Care in Watkinsville
Our technicians are proud to offer lawn care services to Watkinsville, Georgia, and the surrounding Oconee County. Having a beautiful yard is important because not only does it look appealing, but it is receiving the right nutrients to stay healthy and grow correctly. Who doesn't want a healthy lawn?
Our lawn care treatments in Watkinsville include: 
Fertilization
Weed Control
Fungicide Treatments 
Core Aeration
Lawn Pest Control
Tree and Shrub Care 
And More!
Image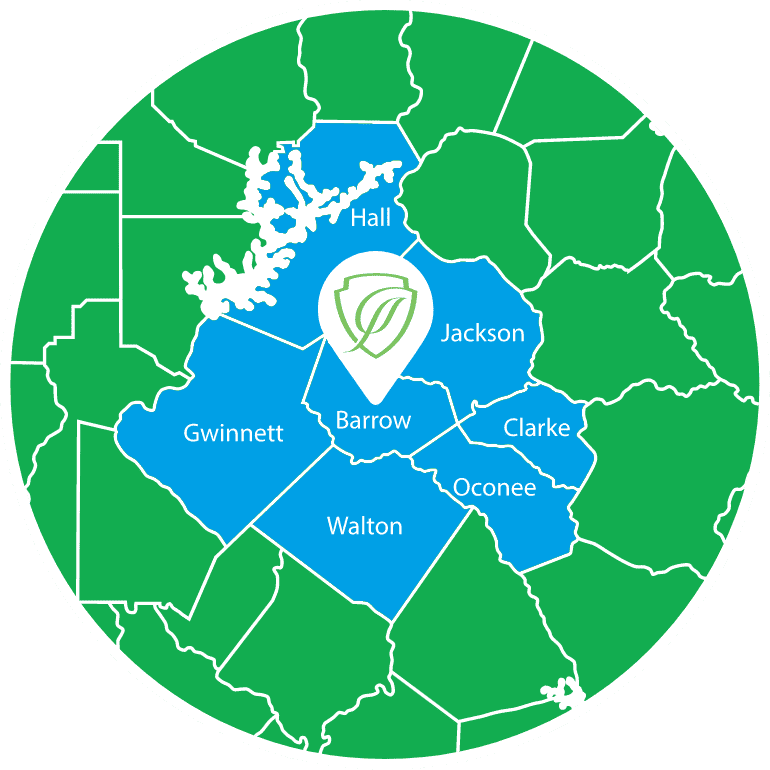 Lawn Aeration in Watkinsville
Compacted soil and thatch buildup can cause thin grass and yellow patches, and will eventually kill your lawn if left untreated. To save your turf, trust our core aeration in Watkinsville. We use specialized machines to remove hundreds of soil plugs, creating pathways that water, nutrients, and oxygen use to penetrate the soil. We also offer fescue seeding to fill in bare patches and give you a lush, even lawn.
Benefits of our aeration service include:
Looser soil which gives grass roots room to grow deeper and stronger.

Reduced puddling which lowers your risk for lawn diseases.

Thicker grass that's more resistant to weed growth.

An overall healthier lawn that bounces back sooner. 
Lawn Pest Control in Watkinsville
Lawn pests might seem innocent, but they can destroy your turf and even put your family in danger of diseases like Lyme disease and tularemia. For a reliable solution, trust our lawn pest control in Watkinsville. We offer comprehensive protection from a variety of insects, including grub control, which can be very difficult to handle on your own. Our no-contract options let you decide if you want one-time help, regular lawn care, or something in between.
Our lawn pest control uses safe, EPA-approved formulas to eliminate:
Armyworms

Grubs

Fire ants

Fleas

Ticks

And more!
Lawn Fertilization in Watkinsville
Don't settle for a lackluster lawn. Invest in our professional lawn fertilization service in Athens and witness the transformation of your outdoor space. Our fertilizer program in Watkinsville includes:
Lawn Inspection: Our expert lawn care technicians will conduct a thorough inspection of your lawn to identify any brown spots, thinning grass, or other issues that may be hindering the health of your lawn.
Monitoring: We closely monitor the condition of your lawn throughout the year to ensure that it receives the right nutrients at the right time, promoting a vibrant and healthy lawn.
Customized Lawn Fertilization Applications: Our environmentally friendly lawn care program includes strategically planned fertilizer applications to provide your grass with the essential nutrients it needs to thrive.
Seasonally Timed Applications: We schedule fertilization applications according to the growing season and the type of grass you have. For warm-season turfgrass such as Bermuda and Zoysia, we fertilize in early spring and mid-summer. Cool-season grass like fescue and rye is fertilized in early spring and late summer.
Contact us today to schedule a consultation with our expert team and take the first step towards a greener, healthier lawn.
Tree and Shrub Care in Watkinsville
Are you looking for expert tree and shrub care services in Loganville, GA? Look no further! At Legacy Tree & Shrub Care, we have over years of experience in providing top-notch arborist services. Our team of skilled professionals is dedicated to keeping your landscape healthy and beautiful. Here's what we offer:
Comprehensive inspection: Our tree arborist will thoroughly assess the health of your trees and shrubs, identifying any issues or potential problems.
Seasonal fertilization: We provide specialized tree and shrub fertilizer services to ensure they receive the necessary nutrients for healthy growth and development.
Tree injections: If your trees are suffering from pests or diseases, our tree disease specialists can administer targeted injections to combat the problem.
Tree disease treatment: We have the expertise to diagnose and treat a wide range of tree diseases, protecting your valuable landscape investments.
Shrub care: Our team will take care of your shrubs, ensuring they receive the proper care and maintenance to thrive.
And more: We offer a comprehensive range of arborist services tailored to meet your specific needs.
With our 100% guarantee, you can trust us to deliver exceptional results. Don't wait until it's too late! Contact Legacy Tree & Shrub Care today for top-quality tree and shrub care in Loganville, GA. Let us enhance the beauty of your landscape and provide you with peace of mind.
Weed Control in Watkinsville
Revitalize your lawn and say goodbye to unwanted weeds with our effective weed control service. This service includes:
Environmentally-friendly weed treatments: Our weed removal service utilizes safe and eco-friendly solutions to get rid of weeds without harming the environment.
Year-round weed control: With our comprehensive lawn spraying and ongoing monitoring, we ensure that your lawn remains weed-free throughout the year.
Prevent weeds from germinating: Our pre-and-post emergent weed treatment targets both existing weeds and prevents new weeds from sprouting, guaranteeing that weeds never get the chance to take over. From persistent clover to crabgrass and thistle, our weed control in Athens specifically targets the common weeds that plague lawns in the area.