Image

Get Expert Lawn Care in Auburn
Lawn Care in Auburn
Taking care of your lawn can feel like a full-time job, and it can be especially frustrating when things don't go as planned. Instead of trying to do everything yourself, let the experts at Legacy Lawn Care help! We offer comprehensive lawn care in Auburn that can solve problems like stubborn weeds, compacted soil, and so much more.
Our 8-round lawn care program includes:
Lawn Fertilization

Weed Control

Fungicide Treatment

Core Aeration

Flea and Tick Control

Tree and Shrub Care

Fire Ant Control
And More! 
Reliable Services Without a Contract
Recurring treatments are the secret to a great lawn. However, we know that's not always the best option. To accommodate everyone's needs, we offer no-contract lawn care in Auburn. You get to choose between regular visits or a one-time service—or something in between! No matter what you pick, we'll always go above and beyond to help.
Jump to a section to learn more
Image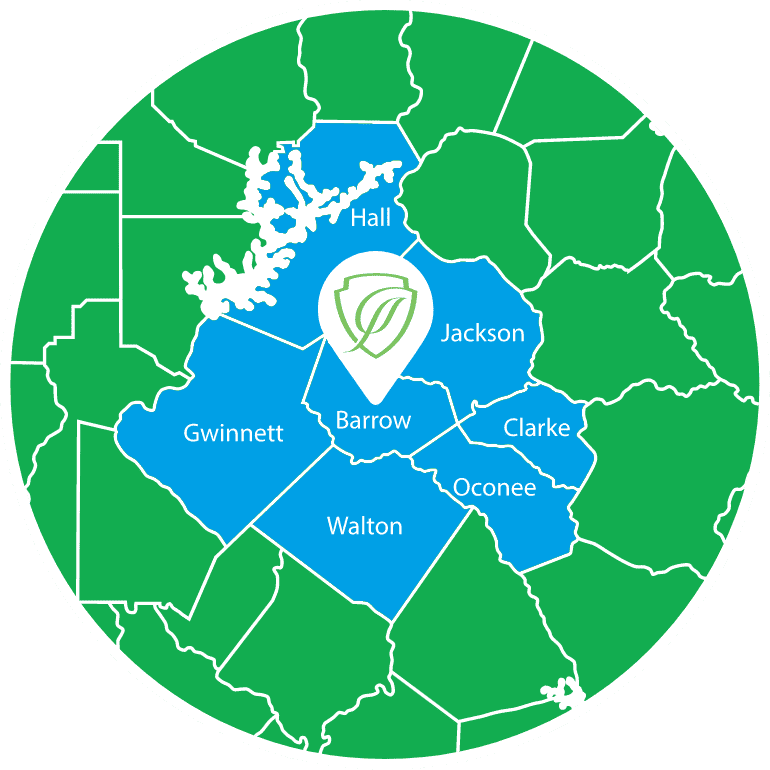 Custom Treatments for Great Results
No matter how similar your lawn looks to your neighbor's, every property is unique. That's why we never offer cookie cutter services. Instead, we take the time to understand your lawn and what it needs to thrive. We look at the type of grass you have, assess the soil health, look for problem areas, and listen to any concerns you have before starting treatment. This ensures you get great results—every time.
When you partner with Legacy, our lawn care specialists will:
Evaluate the health of your lawn and identify any areas of concern.

Customize our treatment approach based on your property's needs.

Apply high-quality fertilizers to encourage new growth.

Eliminate broadleaf and grassy weeds while preventing new ones from sprouting.

Give you a beautiful lawn that you can be proud of.
Lawn Fertilization in Auburn
Experience the benefits of our lawn fertilization service in Athens that focuses on environmentally friendly lawn care. Trust our dedicated team to provide the best care for your lawn, ensuring it stays healthy and vibrant all year round. Here's what sets our service apart:
Comprehensive Lawn Inspection: Our skilled lawn care technicians conduct a thorough assessment of your lawn to identify issues such as brown spots and thinning grass. This helps us tailor our fertilization plan to address your lawn's specific needs.
Regular Monitoring: We don't just apply fertilizer and leave. Our team continuously monitors the progress of your lawn, ensuring that it receives the right amount of nutrients to thrive. We make adjustments as needed to cater to changing conditions and seasonal requirements.
Strategic Fertilization Applications: Our lawn care program includes timely and precise fertilization applications. By using the right balance of nitrogen, phosphorus, and potassium, we promote chlorophyll production for greener grass, stimulate root growth for stronger and fuller turf, and enhance resistance to drought, disease, and stressors.
Family and Pet-Friendly Approach: We understand the importance of a safe environment for your loved ones, including furry friends. Our environmentally friendly lawn care practices prioritize the well-being of your family and pets, ensuring they can enjoy your beautiful lawn without worry.
Invest in your lawn's health and beauty with our professional fertilization service in Athens. Let us handle the hard work while you enjoy a lush and vibrant lawn. Contact us now to learn more and schedule your lawn inspection.
Tree and Shrub Care in Auburn
Are you looking for professional tree and shrub care services in Loganville, GA? Look no further! At Legacy Lawn Care, we offer a range of comprehensive services to keep your landscaping in top shape. With over of experience, our team of expert arborists and tree disease specialists are here to provide you with the highest quality care. Here's what we offer:
Comprehensive inspection: Our skilled arborists will conduct a thorough assessment of your trees and shrubs to identify any issues and develop a tailored care plan.
Seasonal fertilization: We provide tree and shrub fertilizer services to ensure your plants receive the necessary nutrients for optimal growth and health.
Tree injections: Our team is trained in tree injection techniques, delivering targeted treatments to address specific diseases and pests.
Tree disease treatment: If your trees are suffering from diseases, our specialists will provide effective treatments to restore their health and vitality.
Shrub care: We understand the importance of maintaining your shrubs' health and appearance. Our care services will keep them in beautiful condition.
And more: We offer a range of additional services to meet all of your tree and shrub care needs.
At Legacy Lawn Care, we are committed to providing the highest level of service and guarantee your satisfaction. Our team is dedicated to keeping your property's landscaping in top shape, enhancing its beauty and value. Don't let your investment dry up - trust our experienced arborists to provide the care your trees and shrubs deserve.
Weed Control in Auburn
Say goodbye to unsightly weeds with our environmentally-friendly weed removal service in Athens! Our weed control program includes the following:
Year-round weed control program to ensure your lawn remains weed-free, no matter the season
Ongoing monitoring to catch any weed growth early and prevent it from spreading
Pre-and-post emergent solutions, preventing new weeds from germinating and targeting existing ones
Our services are designed to effectively eliminate weeds and keep your lawn looking its best. With our proven techniques, we ensure that weeds never get the chance to take over your beautiful lawn.
Lawn Aeration in Auburn
Choose our lawn aeration service to unlock the full potential of your lawn. Immerse yourself in the beauty of a healthier, greener turf! The benefits of core aeration include:
Promotes Healthier Turf: Our lawn aeration in Athens improves the overall health of your lawn by allowing essential nutrients, water, and oxygen to penetrate deep into the soil.
Removing Excess Thatch: Say goodbye to thatch buildup that can suffocate your grass. Our lawn aeration service includes dethatching to create the perfect environment for new growth.
Reduced Soil Compaction: With regular core aeration, soil compaction can be reduced, and air circulation increased. This allows for deeper root growth and improved nutrient absorption, resulting in a healthier lawn.
Healthy Grass Seed Growth: Our lawn aeration service helps create the perfect environment for new grass seeds to germinate, encouraging the healthy growth of your lawn.
Quick Results: Experience the transformation of your lawn in no time with our efficient and effective lawn aeration process. You'll notice a visible difference in the vibrancy and aesthetics of your yard in just a short time.
Contact our expert team today to schedule your lawn aeration in Athens and take the first step towards a greener, healthier, and more beautiful yard. Act now and experience the difference for yourself!
Lawn Pest Control in Auburn
Are you tired of dealing with insects on your Athens lawn? Look no further! Our lawn pest control service in Athens is here to save the day. With our highly-effective grub treatments and ongoing prevention, you can say goodbye to those brown patches and hello to a healthy, grub-free lawn. Here's why you'll love our service:
Free inspection: We'll come to your property and assess the situation for free. No more guessing games or wasting money on ineffective insect killers.
Highly-effective treatments: Our experts know exactly how to get rid of those stubborn pests. We use the most advanced methods and products to ensure maximum effectiveness.
Ongoing grub prevention: Don't just treat the problem; prevent it from happening again. Our program includes proactive measures to keep insects at bay and maintain a beautiful lawn all season long.
Family and pet-friendly: Your family's safety is our top priority. That's why our treatments are completely safe for both humans and pets. No need to worry about harmful chemicals harming your loved ones.
Don't let grubs and other insects take over your lawn. Say goodbye to those brown patches and hello to a healthy, vibrant lawn that will make your neighbors green with envy. Act now and unlock the secret to a pest-free paradise.