Image

Get Expert Lawn Care in Lawrenceville
Lawn Care in Lawrenceville
Are you tired of spending hours maintaining your lawn and not getting the results you desire? Look no further! At Legacy Lawn Care, we take pride in providing top-notch lawn care services in Lawrenceville that will make you enjoy the outdoors while we handle all the hard work. Here are some of the services we offer:
Fertilization treatments that nourish your lawn, promoting healthy growth and preventing nutrient deficiencies.
Weed control to effectively target and eliminate weeds, ensuring a weed-free and well-maintained lawn.
Lawn disease control that targets funguses and prevents them from taking over your lawn.
Core aeration to improve air circulation, reduce soil compaction, and promote root growth for healthier grass.
Tree and shrub care to keep your ornamentals looking great.
And more!
Image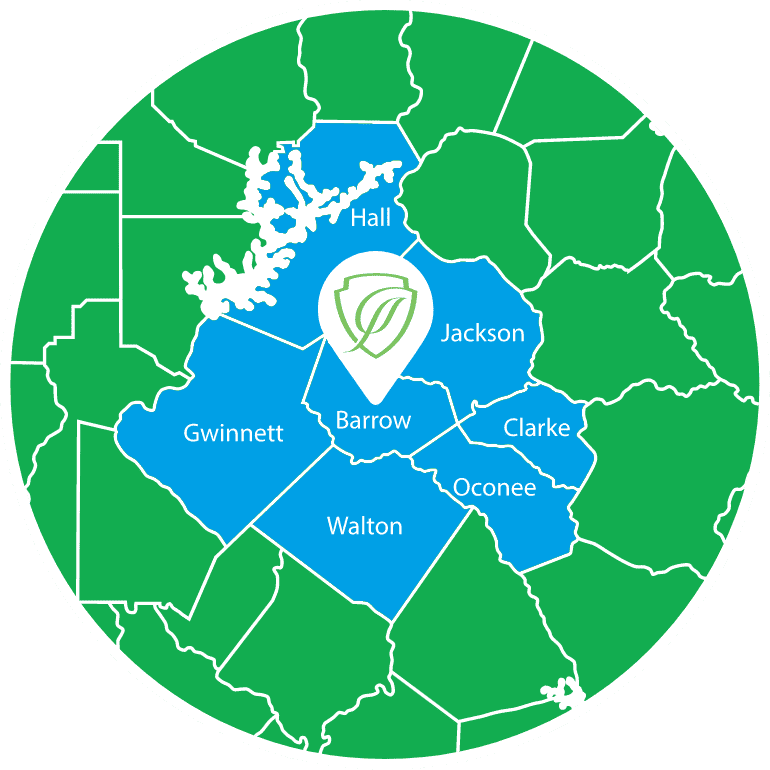 Quality Lawn Care from Local Experts
Maintaining a beautiful lawn in Georgia can be a challenge, especially with sandy soil, humid summers, and unpredictable weather. But don't worry, Legacy Lawn Care is here to help! Our lawn care services in Lawrenceville are tailored to the unique needs of your lawn, ensuring that it stays healthy and vibrant.
When you choose us, you can expect:
A comprehensive inspection of your lawn and a personalized maintenance plan.
Treatment and monitoring of lawn diseases preventing further damage.
Pre and post-emergence treatments that effectively target and eliminate weeds, resulting in a weed-free lawn that is visually appealing.
Lawn fertilization applications that provide the necessary nutrients for a healthy and vibrant lawn.
Herbicide applications that effectively eliminate both grassy and broadleaf weeds, ensuring a weed-free lawn.
Lawn insect control services that effectively eliminate harmful insects, providing a safe environment for your family and pets and protecting your lawn from damage.
And more!
Lawn Care When You Need It, With No Contracts
We believe in flexibility. That's why we don't require a binding contract. You have the freedom to choose the lawn care services you need, whenever you need them. Plus, our quick and efficient service ensures that you won't be left waiting - we can be there within 48 hours.
Lawn Aeration in Lawrenceville
Core aeration is a great way to improve the health and beauty of your lawn in Lawrenceville. By removing small plugs of soil from the grass, core aeration increases drainage and air exchange between the soil and the atmosphere. This allows water, oxygen, and nutrients to reach deeper into the soil, which encourages healthy root growth that helps your grass stay lush and green. Core aeration is also beneficial in controlling soil compaction and promoting the breakdown of thatch.
Some of the benefits of core aeration include:
Improved nutrient uptake 
Enhanced water uptake
Improved thatch control
Reduced soil compaction
Stronger, healthier grass
Lawn Pest Control in Lawrenceville
Whether you're dealing with an invasion of pests or just want to keep them from coming back, our lawn pest control in Lawrenceville is the perfect solution. We use a variety of methods that are designed to target specific pests and eliminate them quickly and effectively. From granular insecticides to liquid treatments, we'll find the right product for your unique situation. Our team will measure and treat your lawn accurately, ensuring that it is completely safe and pest-free in no time.
When you partner with us for lawn pest control, we will:
Inspect your lawn to identify any pests present.
Measure and treat the lawn accurately with targeted treatments.
Follow up with a detailed analysis to ensure the job is done right.
Provide ongoing support and advice as needed.
Lawn Fertilization in Lawrenceville
Are you tired of dealing with unsightly brown spots and thinning grass on your lawn? Look no further than our environmentally friendly lawn care in Lawrenceville! With our expert lawn care technician and customized lawn care program, we will ensure that your lawn stays healthy and vibrant all year round. Say goodbye to mediocre results - choose us for the best lawn care in town!
Here's how it works:
Our lawn care technician will thoroughly inspect your lawn, identifying any problem areas and developing a tailored lawn care program to address them.
We closely monitor your lawn's progress throughout the year, making adjustments to our lawn treatments as needed to ensure optimal health and growth.
Using our advanced knowledge of fertilization and the growing season, we strategically apply fertilizer at the right times to encourage vigorous growth, strengthen roots, and boost resistance to stressors.
With our lawn fertilization service, you don't have to worry about brown spots or thinning grass anymore. Your lawn will be healthy and lush, providing a beautiful outdoor space for your family and pets to enjoy. Don't wait any longer - contact us today to schedule an appointment and experience the difference of our expert lawn care service in Lawrenceville!
Tree & Shrub Care in Lawrenceville
Your property in Lawrenceville, GA is not just a place to call home, it's an investment. But without proper care and maintenance of your landscaping, that investment could dry up. That's where our tree and shrub arborists come in. With over of experience, our team of experts specializes in tree and shrub care, offering comprehensive inspection, seasonal fertilization, tree injections, and tree disease treatment, to name just a few of our services. When you choose us, you can rest assured that your landscape will receive the necessary care it deserves. We guarantee 100% satisfaction because your satisfaction is our priority. Don't let your investment wither away, let our team take care of it for you.
When you choose us for all your shrub and tree care needs  you can expect the following:
A comprehensive inspection to assess the condition of your trees and shrubs.
Seasonal fertilization to promote healthy growth and flowering.
Tree injections for targeted treatment against diseases and pests.
Tree disease treatment to protect your greenery from harmful infections.
Shrub care to keep your landscape looking stunning and well-maintained.
Professional arborists with extensive knowledge and expertise.
100% guarantee on all our services.
Weed Control in Lawrenceville
Is your beautiful lawn being invaded by stubborn weeds like clover, crabgrass, and thistle? No matter how much time and effort you put into watering, mowing, and fertilizing, these pesky plants always find a way to take over. But don't worry, our weed control service in Lawrenceville, Georgia has the solution for you. With our effective combination of post-emergent solutions that target existing weeds and pre-emergent solutions that prevent new weeds from germinating, your lawn will be weed-free all year round. Say goodbye to those unsightly weeds and hello to a healthy and vibrant lawn. 
Here are some of the local Lawrenceville weeds that we can handle:
Clover
Crabgrass
Thistle
Dandelion
Nutsedge
Chickweed
Ground ivy
And more!
So why wait? Contact us today to schedule a free consultation and take the first step towards a weed-free and thriving lawn. Our friendly staff is ready to assist you and answer any questions you may have. Say goodbye to those stubborn weeds and hello to a lawn that you can be proud of. Remember, a beautiful lawn starts with effective weed control.