Image

Get Expert Lawn Care in Dacula
Lawn Care in Dacula
After a busy week, the last thing you want to do is take care of your lawn. Lawn care can be overwhelming and time consuming. To get the beautiful lawn you desire, trust your local experts at Legacy Lawn Care. Our lawn care program is thorough and our technicians are prepared for every issue your lawn may encounter.
Our 8 round lawn care program includes:
Fungicide treatments

Weed control

Soil testing (as needed)

Spot treatment

Flea and tick control
Fire ant control

Grub control

And more! 
Jump to a section to learn more
Image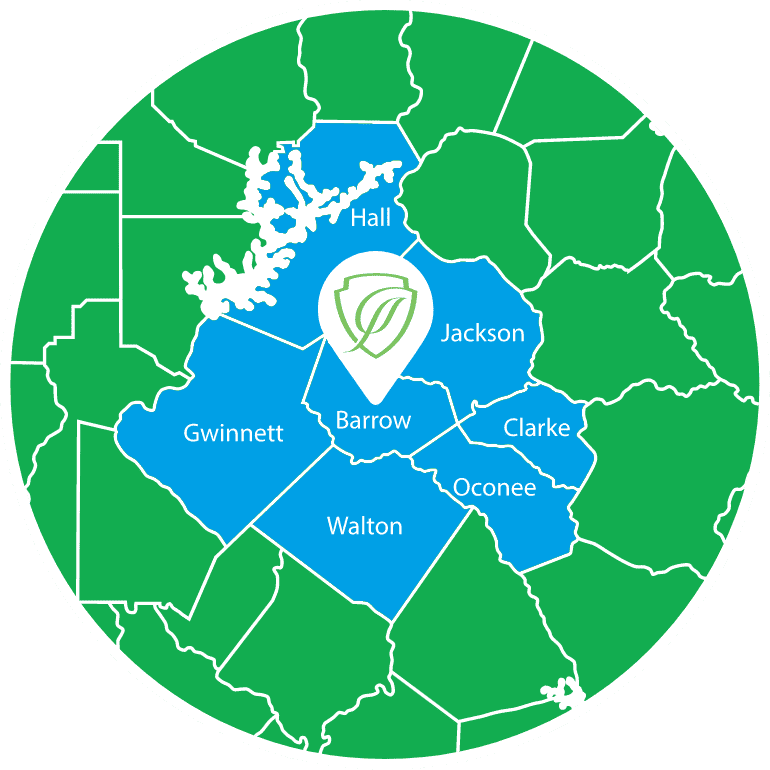 Providing Quality Lawn Care To Our Community
Legacy Lawn Care is a locally owned and operated lawn care company. Our expert lawn care technicians are trained to deliver exceptional lawn care in Dacula. Your lawn is our top priority, which is why we offer service within 48 hours. Here at Legacy, we don't limit our customers with binding contracts, so rest assured you can partner with us worry-free.
Our lawn care treatment includes eight rounds per year, spaced every 5-7 weeks. This ensures that your lawn stays healthy and vibrant all season long. We also offer free service calls between scheduled visits to address the specific needs of your lawn. 
Weed Control in Dacula
Fighting weeds might seem like a never-ending battle, but eliminating them is important for the health of your lawn. If you let them continue to grow, weeds can steal nutrients and water from your lawn. This causes an unsightly lawn that's covered in weeds like nutsedge, dandelions, and crabgrass. To stop this from happening, trust our weed control in Dacula! We use products that target unwanted foliage, not your flowers or turf.
When you partner with us for weed control, we will:
Inspect your property within 48 hours of your call.
Develop a custom treatment plan based on your unique needs.
Use pre-emergent treatments to stop weed seeds from sprouting.
Target existing plants with post-emergent solutions.

Schedule 8 rounds of treatments every 5-7 weeks.
Lawn Fertilization in Dacula
Transform your lawn with our comprehensive lawn fertilization service in Athens. Our environmentally friendly approach ensures a healthy lawn for your family and pets. Here's what our service includes:
Lawn inspection: Our skilled lawn care technician will thoroughly inspect your lawn to identify any issues, such as brown spots or thinning grass. This allows us to tailor our fertilization program to meet your lawn's specific needs.
Customized Fertilization Applications: Our strategic fertilization applications provide your grass with the essential nutrients it needs to thrive. This includes nitrogen for vibrant green grass blades, phosphorus for strong and full root growth, and potassium for increased resistance to drought, disease, and other stressors.
Monitoring: We closely monitor the progress of your lawn throughout the season. This allows us to make adjustments to our fertilization applications to ensure optimal results.
Environmentally friendly lawn care: We prioritize the health and safety of your family and pets by using environmentally friendly lawn care products. Rest assured that our fertilization methods are safe for your loved ones and the environment.
Transform your lawn into a lush, healthy oasis with our top-notch lawn fertilization service in Athens. Trust us to provide the expertise and care your lawn deserves. Contact us today to get started on your journey to a beautiful and thriving lawn.
Tree and Shrub Care in Dacula
Are your trees and shrubs in Loganville in need of professional care? Look no further than our team of experienced arborists. With over of experience, we provide comprehensive tree and shrub care services that will keep your landscape thriving.
Here are some of the services we offer:
Comprehensive inspection: Our trained professionals will thoroughly assess the health and condition of your trees and shrubs.
Seasonal fertilization: We provide specialized fertilization treatments to ensure your trees and shrubs receive the necessary nutrients for optimal growth.
Tree injections: Our tree disease specialists are skilled in administering targeted injections to combat and prevent tree diseases.
Tree disease treatment: If your trees are already experiencing disease, we have the expertise to provide effective treatment options.
Shrub care: We offer specialized services to keep your shrubs healthy and vibrant.
And more: Our team is equipped to handle any tree and shrub-related needs you may have.
At Legacy Lawn Care, we understand the value of your investment in your landscape. That's why we guarantee 100% satisfaction with our services. With our expertise and dedication, we will enhance the beauty and health of your trees and shrubs in Loganville, GA. Contact us today to schedule a consultation with our skilled arborists.