Image

The Best Lawn Care in Loganville
Lawn Care in Loganville
We've been providing lawn care in Loganville for over 15 years, so we've seen it all. Whether your lawn is patchy, brown, thin, or generally lackluster, our experts will diagnose the issue and fix it. Our treatments are effective because they're customized to your property's needs.
Our lawn services include:
Weed Control

Core Aeration

Fertilizer Applications

Fungicide Treatment

Lawn Pest Control

Tree and Shrub Care 

And more!
Jump to a section to learn more
Image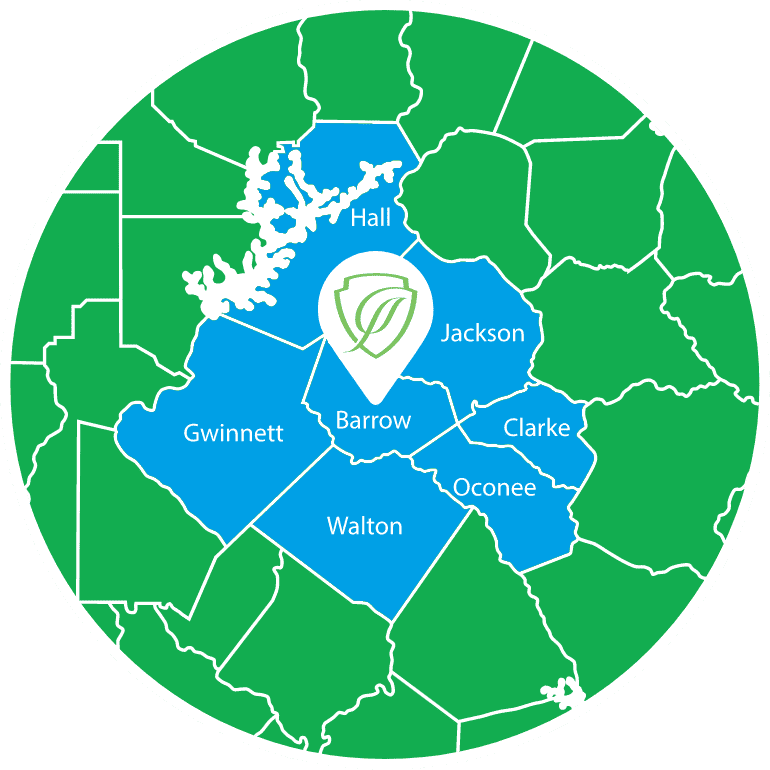 Treatments Tailored to Your Lawn
Sandy soil, humid summers, and unpredictable weather can make it difficult to maintain a lawn in Georgia. That's where we come in! Our lawn care in Loganville includes highly-quality products and local knowledge to deliver grass that's noticeably healthier. Trust Legacy Lawn Care to get the job done right—the first time. 
When you partner with us for lawn care, we will:
Evaluate your lawn's condition,

looking for problem areas and current issues.

Schedule eight lawn service treatments throughout the year

to keep your property looking its best.

Fertilize your lawn

based on your grass type's specific needs and growing seasons.

Eliminate broadleaf and grassy weed

s with targeted herbicides.

Aerate your lawn

by removing small plugs of soil, allowing water to reach the roots.

Treat for fungus

that can cause damaging lawn diseases.

Provide spot treatments during each service visit as needed. 
See Results Without a Binding Contract
Finding the right lawn care company doesn't have to be difficult. Unlike some companies, we don't lock you into a contract. Instead, you get to choose the lawn care services you need, when you need them. We also offer service within 48 hours, so you're never left waiting.
Lawn Fertilization in Loganville
At Legacy Lawn Care, we provide lawn fertilization services to help keep your lawn healthy and beautiful. Grass that is lacking nutrients will appear patchy, dry, and brittle. With regular fertilization, you can provide the nutrients your turf needs to grow green and strong. Fertilizer also helps reduce the number of weeds and insects in your lawn. When you partner with Legacy Lawn Care, you will receive the following:
An inspection of your lawn by a lawn care specialist.
Soil testing as needed to determine the pH and nutrient composition of the soil.
A customized treatment plan catered to your specific needs.
Even fertilizer applications, protecting your lawn from insects, weeds, and diseases.
Lawn Aeration in Loganville
Even if you take perfect care of your lawn, you can still experience problems like thinning grass and brown patches. These issues are often caused by soil compaction and thatch buildup, which make it difficult for water and nutrients to reach grass roots. Our core aeration in Loganville is the best way to break up soil and give your lawn room to breathe. For the best results, schedule yearly core aeration services with overseeding. Aerate your lawn today. Your lawn will thank you!
Benefits of lawn aeration include:
Reduced water runoff

which lets you go longer between waterings.

Increased resistance to drought, heat, and disease.

Thicker grass

which makes it difficult for unwanted weeds to grow.

Better curb appeal

with a visibly healthier lawn.
When Is The Best Time For Aeration?
The best time for lawn aeration in Loganville, is generally considered to be during the early fall months. Aerating during this period allows the soil to dry out from spring and summer moisture, making it more receptive to the benefits of aeration. Soil temperatures are also typically more moderate, allowing for efficient root growth without extreme heat hindering the process. Aerating during this time encourages healthy microbial activity and ensures the greatest nutrient uptake possible. It also helps to reduce thatch build-up and can improve overall turf health.
Weed Control in Loganville
If left unchecked, weeds can quickly take over your lawn, competing with your turf for nutrients, water, and other resources. When attempting to use DIY products, you risk killing your grass instead of harmful weeds based on the product your select and how it's applied. At Legacy Lawn Care, we have an effective weed control program in Loganville that won't destroy your lawn or treasured plants. 
Our weed control for lawns and flower beds includes:
Pre-emergent treatments at the appropriate time to kill crabgrass, nutsedge, and other unwanted ground covers before germination occurs.
Post-emergent formulations designed to get rid of weeds while leaving your grass alone.
Targeted spraying of broadleaf weeds to eliminate them without affecting desirable plants.
A total of 8 applications, scheduled every 5-7 weeks.
Lawn Pest Control in Loganville
Pests, like grubs and armyworms, can damage your grass, undoing hours of hard work. Other insects like fire ants and ticks are dangerous to you and your loved ones due to their bites and potential to spread disease. Thankfully, it's easy to eliminate all these unwanted bugs with our lawn pest control in Loganville. We use products that are proven to be effective, giving you lasting results.
When you partner with Legacy, our lawn technicians will:
Complete an inspection

to understand your specific needs. 

Use targeted treatments

to eliminate grubs, ants, ticks, and more.

Schedule recurring visits

to keep your lawn pest-free.

Give you relief within 48 hours,

without any binding contracts!
Tree and Shrub Care in Loganville
Looking for a trusted and experienced shrub and tree arborist in Winder, GA? Look no further than our team! With years of experience, we provide expert tree and shrub care services guaranteed to keep your landscaping looking its best. Our comprehensive services include the following:
Comprehensive inspection to identify any potential issues
Seasonal fertilization to promote healthy growth
Tree injections to combat pests and diseases
Tree disease treatment to keep your plants healthy
Shrub care to maintain their beauty and structure
At Legacy, we provide top-quality tree and shrub care to our clients in Winder, GA. Our team of experienced tree and shrub experts is committed to ensuring that your landscaping looks its best all year round. Plus, with our 100% satisfaction guarantee, you can be sure you're getting the best service possible. 
Grub Control in Loganville
Say goodbye to unsightly brown patches on your lawn caused by pesky grubs with our highly-effective grub control service in Athens. Our top-notch grub treatment not only eliminates current infestations but also prevents them from returning. Plus, our family and pet-friendly approach means you can enjoy a pest-free lawn without any worries. Here's what you can expect with our grub control in Athens:
Free grub inspection to identify any existing infestations
Highly-effective grub treatments that work fast
Ongoing grub prevention to keep your lawn protected all year round
Family and pet-friendly approach that's safe for everyone
Don't waste time and money with ineffective grub killers that don't work. Let us help you get rid of and prevent grubs from ruining your lawn.